Monday, December 21. 2015
The only feelings we can feel are our own. When it comes to the feelings of others, we can only
infer
them, based on their behavior — unless they tell us. This is the "
other-minds problem
."
Within our own species, thanks to language, the other-minds problem arises only for states in which people cannot speak (infancy, aphasia, sleep, anaesthesia, coma). Our species also has a uniquely powerful empathic or "mind-reading" capacity: We can (sometimes) perceive from the behavior of others when they are in states like our own. Our inferences have also been systematized and operationalized in biobehavioral science and supplemented by cognitive neuroimagery. Together, these make the other-minds problem within our own species a relatively minor one.
But we cohabit the planet with other species, most of them very different from our own, and none of them able to talk. Inferring whether and what they feel is important not only for scientific but also for ethical reasons, because where feelings are felt, they can also be hurt.
Animal Sentience
[
ASent
] is a new international, interdisciplinary journal devoted to the other-minds problem across species. As animals are at long last beginning to be accorded
legal status and protection as sentient beings
,
ASent
will explore in depth what, how and why organisms feel. Individual "target articles" (and sometimes précis of books) addressing different species' sentient and cognitive capacities will each be accorded "
open peer commentary
," consisting of multiple shorter articles, both invited and freely submitted ones, by specialists from many disciplines, each elaborating, applying, supplementing or criticizing the content of the target article, along with responses from the target author(s).
The members of the nonhuman species under discussion will not be able to join in the conversation, but their spokesmen and advocates, the specialists who know them best, will. The inaugural issue launches with the all-important question (for fish) of
whether fish can feel pain
.
ASent
is a publication of the
Humane Society Institute for Science and Policy (HSISP)
. Based in Washington DC, HSISP's mandate is to advance the application of scientific and technical analysis and expertise to animal welfare issues and policy questions worldwide. The HSISP is an affiliate of
The Humane Society of the United States
, the world's largest animal protection organization.
ASent
is a peer-reviewed, open-access journal. Thanks to HSISP sponsorship,
ASent
need not charge either publication fees to authors or subscription fees to readers.
Authors' opinions do not necessarily reflect those of the publisher or editors.
The table of contents of the inaugural issue of
ASent
follow below. Commentaries by scientists, scholars, practitioners, jurists and policy-makers are invited on any of the target articles (in bold); continuing commentary is also invited on the commentaries and responses. And of course the journal now calls for the submission of target articles. All target articles are peer-reviewed and all commentaries are editorially reviewed. Open peer commentary is intended particularly for new target articles written specifically for
ASent
, but updated versions of articles that have appeared elsewhere may also be eligible for publication and open peer commentary.
(Open peer commentary is modelled on the journal
Behavioral and Brain Sciences (BBS)
, of which the editor-in-chief of
ASent
was also the founder and editor-in-chief for 20 years.)
TABLE OF CONTENTS: Inaugural Issue (2016)
Harnad, Stevan (2016) Inaugural Editorial -
Animal sentience: The other-minds problem
Animal Sentience
2016.001
Safina, Carl (2016)
Animals think and feel
:
Précis of Beyond words: What animals think and feel
(Safina 2015)
Animal Sentience
2016.002
Key, Brian (2016)
Why fish do not feel pain
Animal Sentience
2016.003
Balcombe, Jonathan (2016) Cognitive evidence of fish sentience Animal Sentience 2016.008

Braithwaite, Victoria A. and Droege, Paula (2016) Why human pain can't tell us whether fish feel pain Animal Sentience 2016.009

Broom, Donald M. (2016) Fish brains and behaviour indicate capacity for feeling pain Animal Sentience 2016.010

Brown, Culum (2016) Comparative evolutionary approach to pain perception in fishes Animal Sentience 2016.011

Chella, Antonio (2016) Robot fish do not need sentience Animal Sentience 2016.012

Dinets, Vladimir (2016) No cortex, no cry Animal Sentience 2016.013

Haikonen, Pentti O. (2016) On the sentience of fish Animal Sentience 2016.014

Hart, Paul J.B. (2016) Fighting forms of expression Animal Sentience 2016.015

Jones, Robert C. (2016) Fish sentience and the precautionary principle Animal Sentience 2016.016

Manzotti, Riccardo (2016) No evidence that pain is painful neural process Animal Sentience 2016.017

Mather, Jennifer A. (2016) An invertebrate perspective on pain Animal Sentience 2016.018

Ng, Yew-Kwang (2016) Could fish feel pain? A wider perspective Animal Sentience 2016.019

Seth, Anil K. (2016) Why fish pain cannot and should not be ruled out Animal Sentience 2016.020

Striedter, Georg (2016) Lack of neocortex does not imply fish cannot feel pain Animal Sentience 2016.021

Key, Brian (2016) (Response I) Going beyond just-so stories Animal Sentience 2016.022

Baluška, František (2016) Should fish feel pain? A plant perspective Animal Sentience 2016.023

Burghardt, Gordon (2015) Mediating claims through critical anthropomorphism Animal Sentience 2016.024

Derbyshire, Stuart W.G. (2016) Fish lack the brains and the psychology for pain Animal Sentience 2016.025

Elwood, Robert W. (2016) A single strand of argument with unfounded conclusion Animal Sentience 2016.026

Gagliano, Monica (2016) What would the Babel fish say? Animal Sentience 2016.027

Godfrey-Smith, Peter (2016) Pain in parallel Animal Sentience 2016.028

Gonçalves-de-Freitas, Eliane (2016) Pain and fish welfare Animal Sentience 2016.029

Merker, Bjorn (2016) Drawing the line on pain Animal Sentience 2016.030

Panksepp, Jaak (2016) Brain processes for "good" and "bad" feelings: How far back in evolution? Animal Sentience 2016.031

Rose, James D. (2016) Pain in fish: Weighing the evidence Animal Sentience 2016.032

Segner, Helmut (2016) Why babies do not feel pain, or: How structure-derived functional interpretations can go wrong Animal Sentience 2016.033

Shriver, Adam J. (2016) Cortex necessary for pain — but not in sense that matters Animal Sentience 2016.034

Sneddon, Lynne U. and Leach, Matthew C. (2016) Anthropomorphic denial of fish pain Animal Sentience 2016.035

Stevens, E. Don (2016) Why is fish "feeling" pain controversial? Animal Sentience 2016.036

Van Rysewyk, Simon (2016) Nonverbal indicators of pain Animal Sentience 2016.037

Wadiwel, Dinesh Joseph (2016) Fish and pain: The politics of doubt Animal Sentience 2016.038/

Key, Brian (2016) (Response II) Falsifying the null hypothesis that "fish do not feel pain" Animal Sentience 2016.039

Brown, Culum (2016) Fish pain: An inconvenient truth Animal Sentience 2016.058

Damasio, Antonio and Damasio, Hanna (2016) Pain and other feelings in humans and animals Animal Sentience 2016.059

Devor, Marshall (2016) Where is pain in the brain? Animal Sentience 2016.060

Diggles, B. K. (2016) Fish pain: Would it change current best practice in the real world? Animal Sentience 2016.061

Edelman, David B. (2016) Leaving the door open for fish pain: Evolutionary convergence and the utility of 'just-so stories' Animal Sentience 2016.062

Walters, Edgar T. (2016) Pain-capable neural substrates may be widely available in the animal kingdom Animal Sentience 2016.063
King, Barbara J. (2016)
Animal mourning
: Précis of
How animals grieve
(King 2013)
Animal Sentience
2016.004
Botero, Maria (2016) Death in the family Animal Sentience 2016.040

Fox Hall, Tara (2016) Anticipatory grief Animal Sentience 2016.041

Gardiner, Martin (2016) Modulation of behavior in communicating emotion Animal Sentience 2016.042

Glymour, Clark (2016) The object of grief Animal Sentience 2016.043

Probyn-Rapsey, Fiona (2016) Love's claim on grief Animal Sentience 2016.044

Proctor, Helen (2016) Monkey say, monkey do, monkey grieve? Animal Sentience 2016.045

Ristau, Carolyn (2016) Evidence for animal grief? Animal Sentience 2016.046

King, Barbara J. King (2016) (Response) Understanding emotional suffering Animal Sentience 2016.047
Broom, Donald M. (2016)
Considering animals' feelings
: Précis of
Sentience and animal welfare
Animal Sentience
2016.005Chandrasekera, Charukeshi (2016)
From sentience to science: Limits of anthropocentric cognition
Animal Sentience
2016.048
Clarke, Nancy (2016)
Sentience and animal welfare: Affirming the science and addressing the skepticism
Animal Sentience
2016.049
Copeland, Marion W. (2016)
Life in translation
Animal Sentience
2016.050
Donaldson, Sue and Kymlicka, Will (2016)
Linking animal ethics and animal welfare science
Animal Sentience
2016.051
Duncan, Ian J.H. (2016)
Is sentience only a nonessential component of animal welfare?
Animal Sentience
2016.052
Durham, Debra (2016)
The science of sentience is reshaping how we think about animals
Animal Sentience
2016.053
Rolle, M.E. (2016)
Animal welfare and animal rights
Animal Sentience
2016.054
Rowlands, Mark (2016)
Mentality and animal welfare
Animal Sentience
2016.055
Sammarco, Andrea L. (2016)
Is humanitarianism recent?
Animal Sentience
2016.056
Broom, Donald M. (2016) (Response) Sentience and animal welfare: New thoughts and controversies Animal Sentience 2016.057
Lachance, Martine (2016)
Breaking the silence: The veterinarian's duty to report
Animal Sentience
2016.006
Ng, Yew-Kwang (2016)
How welfare biology and commonsense may help to reduce animal suffering
Animal Sentience
2016.007
Tuesday, June 30. 2015
On June 13 2015, all around the world – in Paris, Brussels, London, Berlin, Istanbul, Delhi, Los Angeles, Toronto, Montreal – people gathered to
March for the Closing of the Slaughterhouses
.
But the slaughterhouses will not close of their own accord.
To close the slaughterhouses people's eyes and hearts have to be opened. Opening people's hearts is the only hope for the countless victims – innocent, helpless, without voices, without rights – who are suffering,
horribly and needlessly
, every moment of every day, everywhere in the world, for our palates.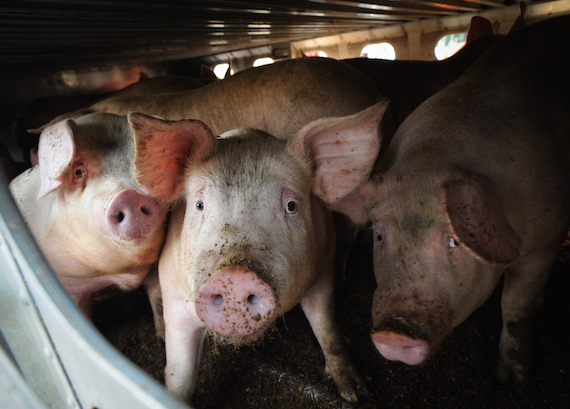 Photo: Jo-Anne McArthur, The Ghost in Our Machine (with permission)
How to open people's hearts?
With two fundamental facts that most people do not yet know or believe.
I.
The first fundamental fact is that
eating meat is not necessary for human survival or human health
.
The vegans from all over the world who marched on June 13 were the living proof of this first fundamental fact (
Nearly 1%
of the world population of 7.5 billion is vegan today.)
II.
The second fundamental fact is that in order to provide this meat that is not necessary for the survival or health of the 7.5 billion humans on the planet, an unimaginable amount of suffering is necessary for
over 150 billion innocent, voiceless, defenceless victims every year.
Slaughter for meat is not euthanasia. It is not the merciful, pain-free, terror-free ending of a long, happy life in order to spare the victim from suffering a terrible incurable disease or unbearable pain.
SEE ALSO:
- Video Captures Terror Of Slaughterhouses - The Dodo
- "Hurt That Bitch": What Undercover Investigators Saw Inside A Factory Farm - Mother Jones
- Scalding Live Chickens Is Business as Usual on Factory Farms - Mark Bekoff
- Cheap Meat Comes at High Cost to Farm Animals, Wildlife - Stephanie Feldstein
- Let's #OpentheBarns to Transparency- Matthew Bershadker
Slaughter
is the terrifying and horribly painful ending of a short, anguished life full of disease and fear and pain, for innocent, defenceless victims deliberately bred and reared for that purpose. And it is all
carefully concealed
from the public eye.
And it is completely unnecessary for our survival or health. We inflict all this pain on the victims only for taste pleasure, and out of habit.
Demonstrations like the June 13 march are very important, but they are not enough to open people's hearts and close the slaughterhouses.
For that, we first have to
open access
to the slaughterhouses, with
audio-visual surveillance Webcams
placed at all the sites of the abominations (
breeding, rearing, transport, slaughter
) -- cameras that will film the horrors and stream them all immediately, continuously and permanently on the Web so that all people on the planet can witness the terrible cost in agony that our taste-preferences are inflicting, every moment of every day, everywhere, on our victims:
sentient
beings, innocent, defenseless, without rights, without voice, without respite, without hope.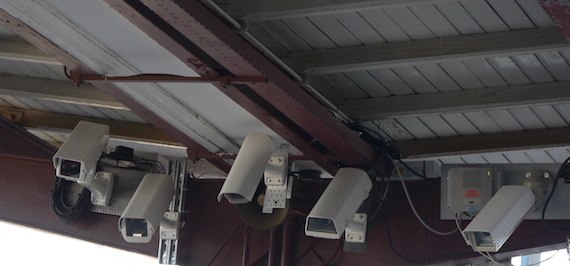 Photo: Wikimedia Commons (public domain image)
Not everyone will look at the videos streamed on the web.
But the number of witnesses who will look and see will grow and grow. And with them will grow the knowledge of the heartbreaking truth, the reality that has till now been
hermetically hidden from our eyes and our hearts
.
And those of us who come to know the awful truth can provide the eyes and the voice for the victims.
The existing regulations for minimizing suffering in slaughterhouses are shamefully inadequate --
how can one needlessly end an innocent life humanely?
But even these existing, inadequate regulations are not being enforced or monitored or obeyed today.
As its first consequence, the crowd-sourced monitoring of slaughterhouses, based on the evidence streamed and stored publicly on the web, witnessed and reported by a growing number of informed and concerned citizens, will help to ensure that today's existing (though inadequate) regulations – and prosecution for their violation – are enforced more and more reliably and rigorously.
In Quebec -- the province that has until now been the worst in
Canada
for animal welfare -- we have just acquired a legal basis for requiring rigorous monitoring of slaughterhouses: the National Assembly has
heeded the many Quebec voices raised
on behalf of protecting animals from suffering. The Quebec Civil Code has been amended to give animals
the status of sentient beings
instead of the status of inert property - or movable goods - as formerly. (Other countries are doing likewise:
New Zealand
is the latest.)
But this new status, like this public demonstration, are not enough.
Sensitizing Sentients to Sentience
In Quebec, on this new legal basis, and with the help of the new audio-visual evidence, as witnessed by the Quebec public, not only would we be able to prosecute those who do not comply with the existing (inadequate) regulations but we could also press for the passage of stronger and stronger legislation to protect sentient beings.
And the evidence provided by these surveillance Webcams would have a still further effect, apart from the enforcement and strengthening of today's animal welfare regulations: It would also awaken and sensitize witnesses to the actual horrors made necessary by a non-
vegan
diet: It would sensitize us all to the sentience of sentient beings.
In place of the shamelessly false advertising images of "
happy cows
" and "contented chickens" we would all have the inescapable, undeniable, graphic evidence of the unspeakable suffering of these innocent, sentient victims - and the utter needlessness of their suffering.
Might this not at last inspire us all not to remain non-vegan, just for the pleasure of the taste, at this terrible cost in pain to other innocent feeling beings? Might it inspire us to
abolish
their needless suffering, instead of just
diminish
it?
SEE ALSO:
- Federal Report: Vegan Diet Best For Planet - The Hill
- No Lie Can Live Forever: Predicting a Vegan America by 2050 - Kathy Stevens
- 2015 Predictions From Vegan and Plant-Based Nutrition Experts - Sandy Pukel
- Getting from A to Z: Why Animal Activists Should Support Incremental Reforms to Help Animals - Bruce Friedrichs
- It's About Power, Not Food: The True Causes of World Hunger - Joel Berg
Win/Win Outcome for All
Let me close with a little optimistic numerology and the world's most benign
pyramid scheme
for every sentient being on the planet, with no losers other than industries that build profit on suffering:
If each vegan today inspires just 6 more non-vegans (1) to become vegan AND (2) to each inspire 6 more non-vegans to become vegan, then in just 9 steps all of the population of Quebec will be vegan, in 10 steps all of Canada, in 11 Canada and the United States, and in 12-13 the whole world.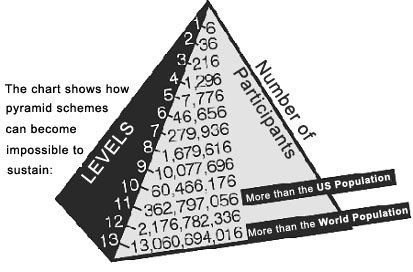 Photo: Wikimedia Commons (Public domain image)
It is also entirely fair that it should be ourselves, the most prosperous and well-fed populace in the world, who start. By the time we have closed all of our industrial slaughterhouses and converted the land to producing food to feed people instead of using it to breed, feed and butcher innocent victims, needlessly, the planet will be producing
40% more human food, 60% less pollution and 90% less suffering
– with enough left to sustain natural wildlife and their habitat too.
That will also be enough food to feed the world's current malnourished as well as to allow the last subsistence hunters on the planet to make the transition to a truly fair, sustainable, scalable and merciful means of sustenance.
Thursday, March 5. 2015
CHALLENGES TO THE RULE OF LAW IN THE EUROPEAN UNION: THE CASE OF HUNGARY
(March 3rd 2015 Concordia University, Montreal, Canada)
Professor Kim Lane Scheppele, Princeton University, USA
Professor András Bozóki, Central European University, Hungary
Professor András Göllner, Concordia University, Canada
+ Hungarian Government Response (Lajos Olah, Deputy Head of Mission, Hungarian Embassy, Ottawa)
---
How Hungary's Orban Regime departed from democracy in the EU
(Prof A Bozoki, Central European University) (1 of 4 videos)




---

How the EU can help restore Democracy in Hungary
(Prof KL Scheppele, Princeton University) (2 of 4 videos)




---

Democracy 101
(Prof. A Gollner, Concordia University) (3 of 4 videos)




---

Hungarian government response... (4 of 4 videos)



---
Friday, February 20. 2015
CHALLENGES TO THE RULE OF LAW IN THE EUROPEAN UNION:
THE CASE OF HUNGARY

March 3rd 2015
5:30pm
Concordia University 767 Hall Bldg, 1455 Maisonneuve
Montreal, Canada

ROUNDTABLE DISCUSSION

Professor Kim Lane Scheppele, Princeton University, USA
Professor András Bozóki, Central European University, Hungary
Professor András Göllner, Concordia University, Canada

Monday, August 25. 2014
A Kanadai Magyar Demokratikus Charta üdvözli Kanada kormányának a történelmi igazságtétel irányába tett lépéseit
Montreál, Kanada – 2014. augusztus 25 --
A Kanadai Magyar Demokratikus Charta üdvözli a kanadai kormány nyilatkozatát, melyet az 1914 és 1920 közötti internálások századik évfordulóján tett. Az I. Világháború alatt és az azt követő másfél évben, összesen 8.600 ártatlan nőt, gyereket és férfit internáltak mint "idegent és ellenséget" 24 lágerben, csupán azért, mert az Osztrák-Magyar Monarchia területeiről származtak.
A kanadai Miniszterelnöki Hivatal által kiadott közlemény szerint:
"a kormányok kötelessége, hogy védelmet nyújtsanak háborúk idején, ezért sajnálattal tekintünk vissza egy olyan kormányzati politikára, amely ahelyett, hogy védelmet nyújtott volna, a kollektív bűnösség elve alapján cselekedett, és nem vette figyelembe az "ártalmatlanság vélelmét". Ezzel a közleménnyel Kanada beismeri a múlt bűneit és deklarálja, hogy tanult a múlt hibáiból. Egyben kijelenti: "kötelességünknek tartjuk, hogy megemlékezzünk az áldozatokról".
Bár a legtöbb internált ukrán származású volt, magyar nemzetiségű áldozatai is voltak az internálásnak; így értelemszerűen magyarok is kerültek az elszigetelő lágerekbe. Ezen kívül a kanadai települések rendőrségei több magyar származású személyt is nyilvántartottak a többi 80 ezer szintén "idegennek és ellenségnek" titulált kelet-európaival együtt. 
A Kanadai Magyar Demokratikus Charta elismeri a kanadai ukrán közösség erőfeszítését és munkáját, melyet annak érdekében végzett, hogy végre ismertté válhasson Kanada történelmének ez a szomorú fejezete. Többek között a Shevchenko (Sevcsenko) Alapítvány, a Ukrainian Canadian Civil Liberties Association (Ukrán-Kanadai Polgári Jogok Egyesülete) és Ukrainian Canadian Congress (Ukrán Kanadai Kongresszus) dolgozott a történelmi igazságtétel érdekében hosszú éveken keresztül. Ennek a munkának köszönhetően született meg a C-311-es törvény, mely egy 10 millió dolláros alap létrehozását tette lehetővé. Az alap támogatásának és projektjeinek köszönhetően ismerhetik meg a kanadaiak – származásuktól függetlenül – ezt a sokáig elfeledett történelmi tragédiát.
A Kanadai Magyar Demokratikus Charta sajnálattal veszi tudomásul, hogy odahaza, a magyar politikai vezetés a mai napig sem tud hasonló példamutatással járni e téren. A KMDH sajnálatosnak tartja, hogy a jelenlegi kormány képtelen őszinte és félreérthetetlen irányt mutatni a huszadik század első felében elkövetett kormányzati igazságtalanságok feldolgozásának érdekében, és ma is inkább másokra keni a felelőséget szomorú múltunk több esetében. A kanadai aktivisták, tudósok, múzeumok és kormányzati tisztviselők együttműködése az ukrán diaszpórával annak ékes bizonyítéka, hogy lehetséges őszintén és nyiltan megemlékezni a történelem sötét és tragikus korszakaira.
A Kanadai Magyar Demokratikus Charta - egy, az akadémikusokat és aktivistákat összefogó országos szervezet – fejet hajt az igazságtalanul meghurcolt embertársaink emléke előtt, tiszteleg az internálás magyar és más nemzetiségű áldozatai előtt. Továbbá, kötelességének tekinti, hogy felszólaljon minden olyan jelenlegi kormányzati lépéssel szemben, amely igazságtalanul érinti az embereket.
Dr. Göllner András, alapító és nemzetközi szóvívő
A Concordia University politológia tanszékének emeritus professzora. Montreál, Québec.
Dr. Ádám Christopher, társalapító és szóvívő
A Carleton University történelem tanszékének oktatója. Ottawa, Ontario.
Dr. Balogh Éva, társalapító és szóvívő
A Yale Egyetem korábbi történész professzora és a Morse College egykori dékánja. New Haven, Connecticut.
Dr. Hernád István, társalapító és szóvívő
A Magyar Tudományos Akadémia külső tagja / Université du Québec ŕ Montréal (UQAM) Kanadai kiemelt kutatási katedra kognitív tudományokban. Montreál, Québec.
Dr. Szeman Imre, társalapító és szóvívő
A University of Alberta kiemelt professzora angol irodalomban, szociológiában és filmművészetben.
További kapcsolat, érdeklődés:
www.hungariancharter.com
Canadian-Hungarian Democratic Charter Welcomes Canadian Government's Decision to Acknowledge Historical Injustice
MONTREAL, CANADA - August 25th, 2014 --
The Canadian Hungarian Democratic Charter welcomes the Government of Canada's statement on the occasion of the 100th anniversary of the country's first national internment operations between 1914 and 1920, in which more than 8,600 innocent men, women and children from the lands of the Austro-Hungarian Empire and elsewhere in Eastern Europe were unjustly interned as "enemy aliens" in 24 internment camps across Canada.
A statement from the Prime Minister's office notes that:
"governments have a solemn duty to defend against legitimate threats in wartime, but we look back with deep regret on an unjust policy that was implemented indiscriminately as a form of collective punishment and in violation of fundamental principles of natural justice, including the presumption of innocence. In Canada we acknowledge the mistakes of the past, and we learn from them. We are also steadfast in our commitment to remembering those who suffered."
While most of those interned were Ukrainians, Hungarian immigrants to Canada were also considered to be enemy aliens, and they were not only among those deported to remote camps, but were also among more than 80,000 residents required to register with local authorities, simply as a result of their ethnic background.
The Canadian Hungarian Democratic Charter also acknowledges the Ukrainian community groups and activists that for decades fought for this sad chapter in Canada's wartime history to be recognized. We think especially of the Shevchenko Foundation, the Ukrainian Canadian Civil Liberties Association and the Ukrainian Canadian Congress--all of which persevered in their calls for justice, even as they faced widespread denial and indifference on the part of Canadian authorities. Their persistence is what led to Bill C-331, which opened the way for the creation of the $10 million Canadian First World War Internment Recognition Fund, thus allowing for Canadians of all backgrounds and generations to explore this previously neglected chapter in our country's history.
The cooperation amongst community activists, the Ukrainian Canadian diaspora, historians and other academics, artists, local museum curators and government officials demonstrates that it is possible to reflect openly on the most painful chapters of a nation's history. This can serve as a positive example for Hungarian society as well.
The Canadian Hungarian Democratic Charter -- a national organization of academics and community activists -- remembers the Hungarians and other Europeans who fell victim to wartime xenophobia and prejudice in Canada, and will continue to raise its voice against injustice and oppression in our contemporary world.
Dr. András B. Göllner. Founder and International Spokesperson
Emeritus Associate Professor, Department of Political Science, Concordia University, Montreal, Que.
Dr. Christopher Adam. Co-Founder and Spokesperson
Sessional Lecturer, Department of History, Carleton University, Ottawa, Ont.
Dr. Éva Balogh. Co-Founder and Spokesperson
Former Professor of History and Dean of Morse College at Yale University (Retired) New Haven, Conn.
Dr. Stevan Harnad. Co-fondateur et porte-parole, langue française
Canada Research Chair in Cognitive Science, Université du Québec ŕ Montréal and External Member, Hungarian Academy of Sciences.
Dr. Imre Szeman. Co-Founder and Spokesperson
Canada Research Chair in Cultural Studies and Professor of English, Film Studies, and Sociology, University of Alberta.
The Canadian-Hungarian Democratic Charter's website:
www.hungariancharter.com
Wednesday, May 21. 2014
Sponsored by
Microsoft Research Connections
UQŔM Cognitive Sciences Summer School 2014
WEB SCIENCE AND THE MIND
JULY 7 - 18 2014
Universite du Québec ŕ Montreal, Montreal, Canada
Registration:
http://www.summer14.isc.uqam.ca/page/inscription.php?lang_id=2
Full Programme:
http://users.ecs.soton.ac.uk/harnad/Temp/AbsPrelimProg3.htm
Cognitive Science and Web Science have been converging in the study of cognition:
(i)
distributed within the brain
(ii)
distributed between multiple minds
(iii)
distributed between minds and media
SPEAKERS AND TOPICS
Katy BORNER
Indiana U
Humanexus: Envisioning Communication and Collaboration
Les CARR
U Southampton
Web Impact on Society
Simon DeDEO
Indiana U
Collective Memory in Wikipedia
Sergey DOROGOVTSEV
U Aveiro
Explosive Percolation
Alan EVANS
Montreal Neurological Institute
Mapping the Brain Connectome
Jean-Daniel FEKETE
INRIA
Visualizing Dynamic Interactions
Benjamin FUNG
McGill U
Applying Data Mining to Real-Life Crime Investigation
Fabien GANDON
INRIA
Social and Semantic Web: Adding the Missing Links
Lee GILES
Pennsylvania State U
Scholarly Big Data: Information Extraction and Data Mining
Peter GLOOR
MIT Center for Collective Intelligence
Collaborative Innovation Networks
Jennifer GOLBECK
U Maryland
You Can't Hide: Predicting Personal Traits in Social Media
Robert GOLDSTONE
Indiana U
Learning Along with Others
Stephen GRIFFIN
U Pittsburgh
New Models of Scholarly Communication for Digital Scholarship
Wendy HALL
U Southampton
It's All In the Mind
Harry HALPIN
U Edinburgh
Does the Web Extend the Mind - and Semantics?
Jiawei HAN
U Illinois/Urbana
Knowledge Mining in Heterogeneous Information Networks
Stevan HARNAD
UQAM
Memetrics: Monitoring Measuring and Mapping Memes
Jim HENDLER
Rensselaer Polytechnic Institute
The Data Web
Tony HEY
Microsoft Research Connections
Open Science and the Web
Francis HEYLIGHEN
Vrije U Brussel
Global Brain: Web as Self-organizing Distributed Intelligence
Bryce HUEBNER
Georgetown U
Macrocognition: Situated versus Distributed
Charles-Antoine JULIEN
Mcgill U
Visual Tools for Interacting with Large Networks
Kayvan KOUSHA
U Wolverhampton
Web Impact Metrics for Research Assessment
Guy LAPALME
U Montreal   
Natural Language Processing on the Web
Vincent LARIVIERE
U Montreal
Scientific Interaction Before and Since the Web
Yang-Yu LIU
Northeastern U
Controllability and Observability of Complex Systems
Richard MENARY
U Macquarie  
Enculturated Cognition
Thomas MALONE
MIT
Collective Intelligence: What is it?  How to measure it?  Increase it?
Adilson MOTTER
Northwestern U
Bursts, Cascades and Time Allocation
Cameron NEYLON
PLOS
Network Ready Research: The Role of Open Source and Open Thinking
Takashi NISHIKAWA
Northwestern U
Visual Analytics: Network Structure Beyond Communities
Filippo RADICCHI
Indiana U
Analogies between Interconnected and Clustered Networks
Mark ROWLANDS
Miami U
Extended Mentality: What It Is and Why It Matters
Robert RUPERT
U Colorado
What is Cognition and How Could it be Extended?
Derek RUTHS
McGill U
Social Informatics
Judith SIMON
ITAS
Socio-Technical Epistemology
John SUTTON
Macquarie U
Transactive Memory and Distributed Cognitive Ecologies
Georg THEINER
Villanova U
Domains and Dimensions of Group Cognition
Peter TODD
Indiana U
Foraging in the World Mind and Online
Monday, April 28. 2014
Fred Friend, born April 7th 1941, died on April 23rd. He had been a dedicated, tireless and inspired advocate for OA ever since the idea was first baptized with a name (in Budapest 2001/2002, where Fred was one of the original co-drafters and co-signatories of the
BOAI
).
Fred's commitment to OA did not, I believe, originate only
ex officio
, as Director of Scholarly Communication at UCL, in the serials crisis with which he and all other library directors have had to struggle for decades. Fred also had a profound sense of justice (one that extended beyond local happenings,
sub specie aeternitatis
). He simply felt that OA was right. And what he did on OA's behalf he did out of character and conviction. (He was also extremely forgiving, as I can humbly attest.)
Fred was, in his own words, a
Friend of Open Access
. It is undeniable that OA has now lost a precious ally. But I think it is equally undeniable (and I am sure Fred knew it too) that OA is unstoppable now. That is true in no small part thanks to the efforts of this modest and faithful Friend.
Heartfelt sympathy to Fred's family; I hope that in their pain they will also find room for some pride.
Stevan Harnad
Thursday, March 27. 2014
(partial list, to be updated: please provide corrections and additions):
- Start with a 2/3 supermajority, generated by a smear campaign and inciting mobs to violence

- Gerrymander the electoral districts

- Adopt laws to control the media

- Buy up the media

- Recruit and buy up corrupt oligarchs

- Re-write the constitution

- Adopt new laws and amendments whenever desired

- Retire the judiciary and appoint your own

- Take over the national bank presidency

- Take over private pensions

- Nationalise businesses and properties, then re-privatize to cronies

- Conduct press and police campaigns to smear the opposition

- Use EU subsidies to fund government electoral campaign

- Limit electoral campaigning in media

- Fund private foundations to do limitless media promotion of government

- Use taxes and subsidies to lower utility costs to disguise economic decline

- Blame all economic ills on opposition

- Oblige tenement owners to advertise utility savings

- Enfranchise non-citizens in adjoining countries to vote; facilitate their voting

- Make it as difficult as possible for citizens living abroad to vote (misinformation, red tape)

- Fund the fraudulent creation of many bogus opposition parties to create confusion in the ballot box

- Have oligarchs buy up all poster campaign space for government posters

- Adopt laws restricting campaign posting in public view

- Use media control to foster a popular climate of hatred toward the opposition and xenophobia toward the outside world

- Borrow bail-out funds at extortionate rates from Russia for nuclear plant building

- Use the loan to fund "Hungary is Performing Better" campaign

- Leak innuendos and initiate criminal proceedings against the opposition weekly, dropping them once they prove groundless and have already done their damage

[Please re-post this list amended and expanded: Maybe there's hope to get it to go viral before the elections]

Thursday, September 19. 2013
Bravo to Professor Eva Balogh, whose
Hungarian Spectrum
has been selected for archiving by the Library of Congress. Eva's historic contribution -- crucial and ongoing -- to exposing and fighting back against the sinister downward forces holding Hungary in their thrall today eminently deserved this historic recognition (and I am sure there will be more): Eva, you have been a tireless critic and chronicler, drawing on your scholarly expertise as a historian, as well as personal experiance and an uncompromising ethical integrity. Végtelen hálával gratulálunk mindnyájan. -- István